Gateway Thảo Điền, Quận 2
~150.580 usd - GATEWAY THAO DIEN
The Landlord Need For Sale A Corner Apartment With 1 Bedroom In GATEWAY Thao Dien
A corner apartment with fully nice furnished . Quiet and Fresh. It have wide view , directly The Landmark 81, view of the pool and the river . Suitable for both buying to invest and stay because of open space , comfortable. It is very easy for rent .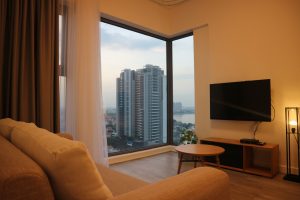 Now, the apartment is currently exploiting short-term rental from 40-50 $ / night
*Area: 52 sqm
* Price: 150 580 USD 
*Location: at No 177 Ha Noi Highway, Thao Dien Ward, District 2
* Facilities:
– Free: Gym, pool, bbq area, tennis court, Kid ground, sauna room…
– Security: 24/7
– Shopping Mall Center, movie theater,convenience store,..
– It just take 5' go to schools, hospitals, shopping centers
You just carry your luggage immediately , the rest is our
Moreover , Gateway Thao Dien is the ideal living space for you and your family , the convergence of diverse cultures and fun activities, entertainment varies (premium coffee area. The park greenery and jogging track, House children, children's play area ……)
You can relax with spacious green space, wide open at the 4th floor of the building with swimmingpool designed in the style resort, children's pool, landscape garden and BBQ area …
Improving health in the gym, enjoy the great moments in the sauna, Gateway Thao Dien promises to give residents a life is always filled with excitement.
A special feature of the project is the gateway draft food court filled with restaurants and coffee international brand located on the ground floor, harmoniously combined with the stunning, Gateway Thao Dien is the perfect place for you fully enjoy happy life with relatives and family.
Be a fastest to become owner this brand new unit in Gateway Thao Dien.
Please feel free to contact us for further information.
🏢 Add: Gateway Thao Dien, 177 Hanoi Highway, Thao Dien Ward, District 2
📞 Tel: +84 90 1995 168.
* Email: info@168property.vn
*Fanpage: https://www.facebook.com/168property.vn
*Website: https://property168.vn/
We manage almost apartment for rent and sale in District 2 such as Gateway Thao Dien, Thao Dien Pearl, Masteri Thao Dien, The Nassim, The Vista An Phu,…. Besite, we also short-term for rent( AIRBNB).  Please kindly contact us for checking apartment for rent or sale in District 2 now.