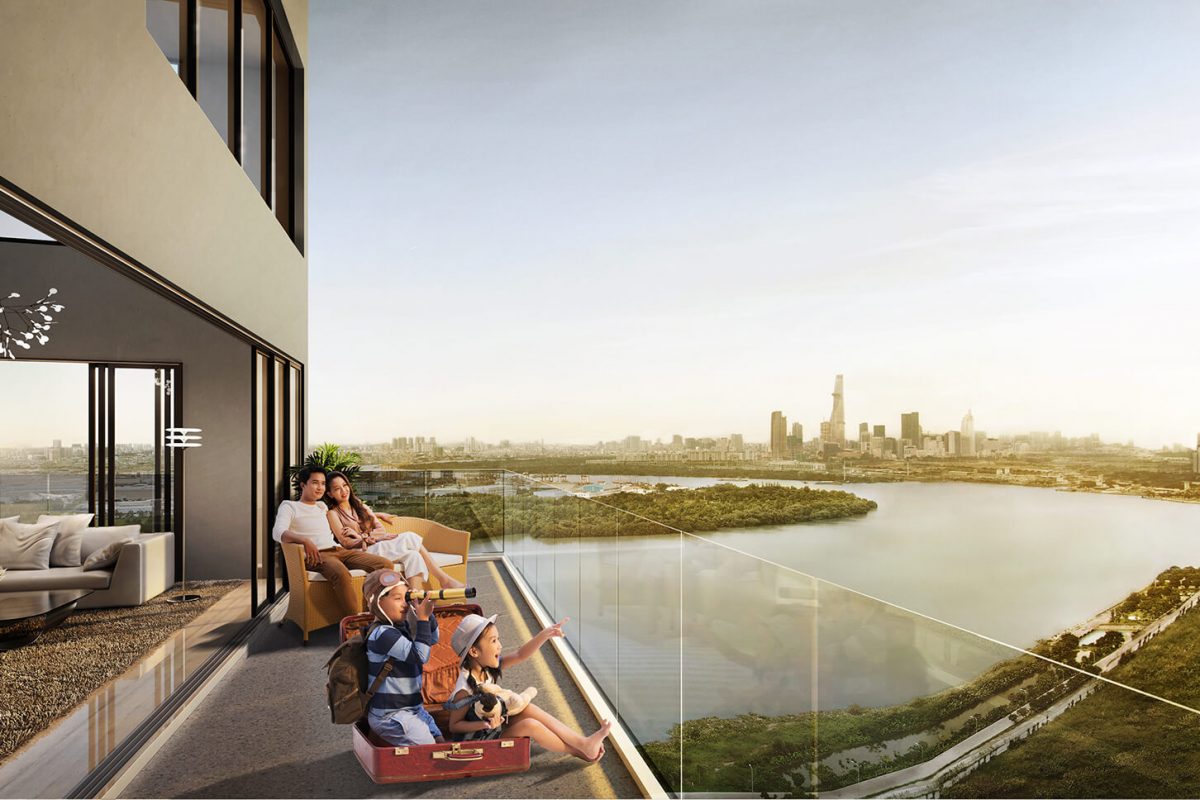 ONE VERANDAH – BREATHTAKING RIVERVIEW AND 04 STREET FRONTAGES IN DISTRICT 2 – Located strategically in the District 2's administrative center and is a part of Thanh My Loi community, One Verandah not only has breathtaking Saigon riverview but also 4 street frontages: Ta Hien, Bat Nan, Nguyen Van Kinh and 103-TML St. Undoubtedly, One Verandah is an excellent choice for both investors and homebuyers.
ONE VERANDAH WINS 2 HONOUR PRIZES AT VIETNAM PROPERTY AWARDS 2018
One Verandah is proud to be the Winner of the "Best High End Condo Architectural Design" award and Highly Commended of the "Best High End Condo Landscape Architectural Design" award organized by Vietnam Property Awards 2018 on 22 June 2018
One Verandah adopts modern, simple and functional style of design, which aims to maximize connection between its residents and the nature, as well as to bring a fully comfortable living experience to the residents.
INTRODUCE
Project name: One Verandah
Investor: Mapletree Viet Nam

The location is favorable, more than 90% of apartments are overlooking the SAIGON river.

Project location: 4 frontage : Bat Nan, Nguyen Van Kinh, Ta Hien, 103, Thanh My Loi Ward, District 2, Ho Chi Minh City.

Land area: 1,7 hectare

Bank guarantee project: Vietcombank
Contractor: Coteccons and Fecon
Design contractor: P&T Consultans

Density of Building: 40%

Number of tower: 5 tower

Number of storeys: 22 storeys

Parking basement: 03F (1 basement & 2 floors)

Apartment storeys: 4F – 22F and utility floor

Number of apartments: 779 apartments

1 Bedroom, 55 sqm occupies 11%

2 Besrooms, 80-95 sqm occupies 41%

3 Bedrooms, 110-130 sqm occupies 33%

4 Bedrooms, 170 sqm occupies 11%

Standard: Modern style, Singapore standard, Saigon river frontage

Intended handing over: In the end of 2019

Sale price (Intended): 45 million VNĐ/ sqm

Owership: Permanent and 50 years for foreigner
ONE VERANDAH LOCATION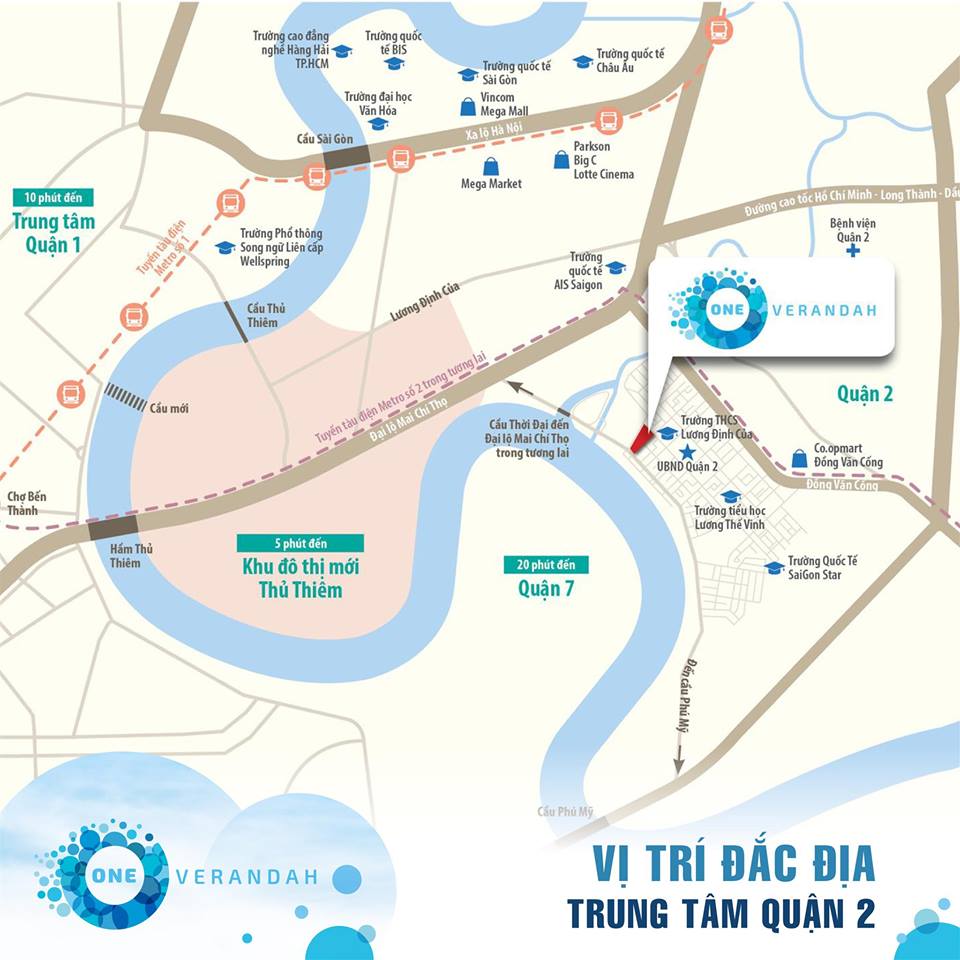 ONE VERANDAH – WHERE EVERYTHING IS WITHIN REACH ?
Located in the trendy Thanh My Loi area, surrounded by all the existing and upcoming facilities and developing transportation network, One Varandah is an ideal home for your family.
At One Verandah, it's truly convenient to go anywhere: Your workplace, your children's school and even entertainment destinations are now closer than ever.
10 minutes to District 1 through Thu Thiem Tunnel 

 20 minutes to District 7 & Phu My Hung through Phu My Bridge

Only 5 minutes to the facilities such as hospitals, schools, supermarkets, amusement parks, etc…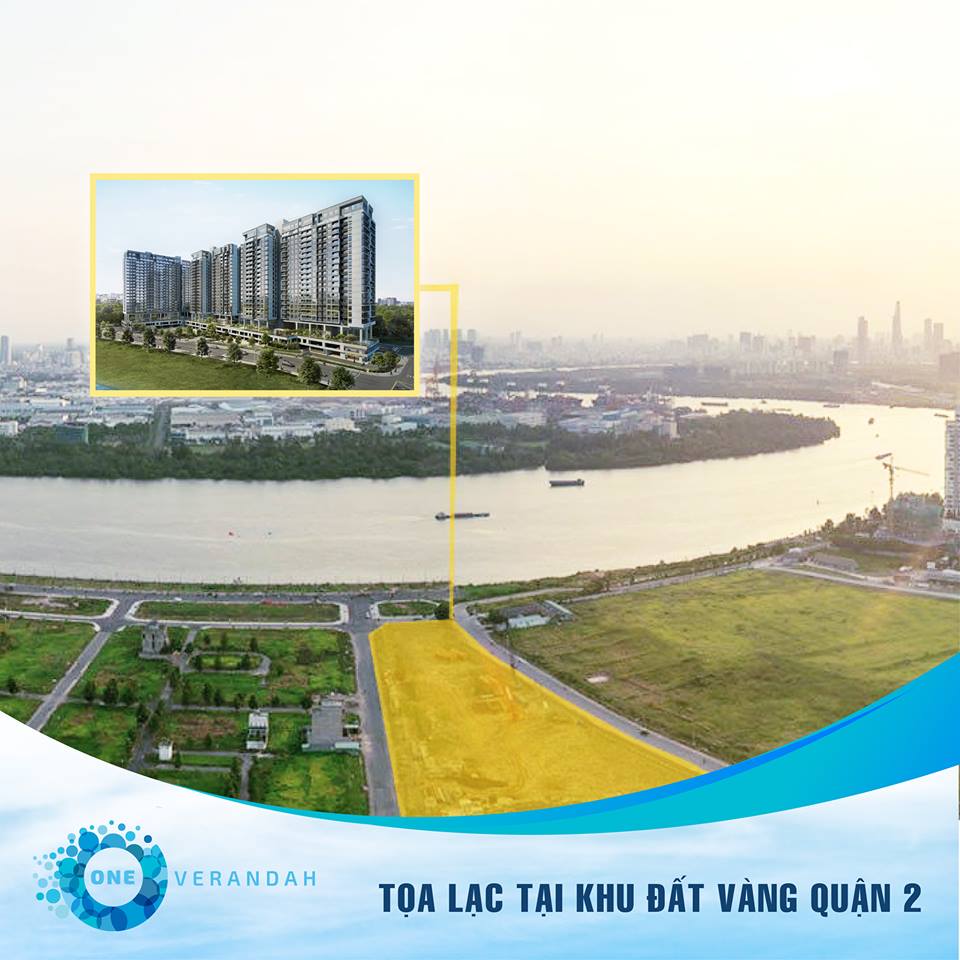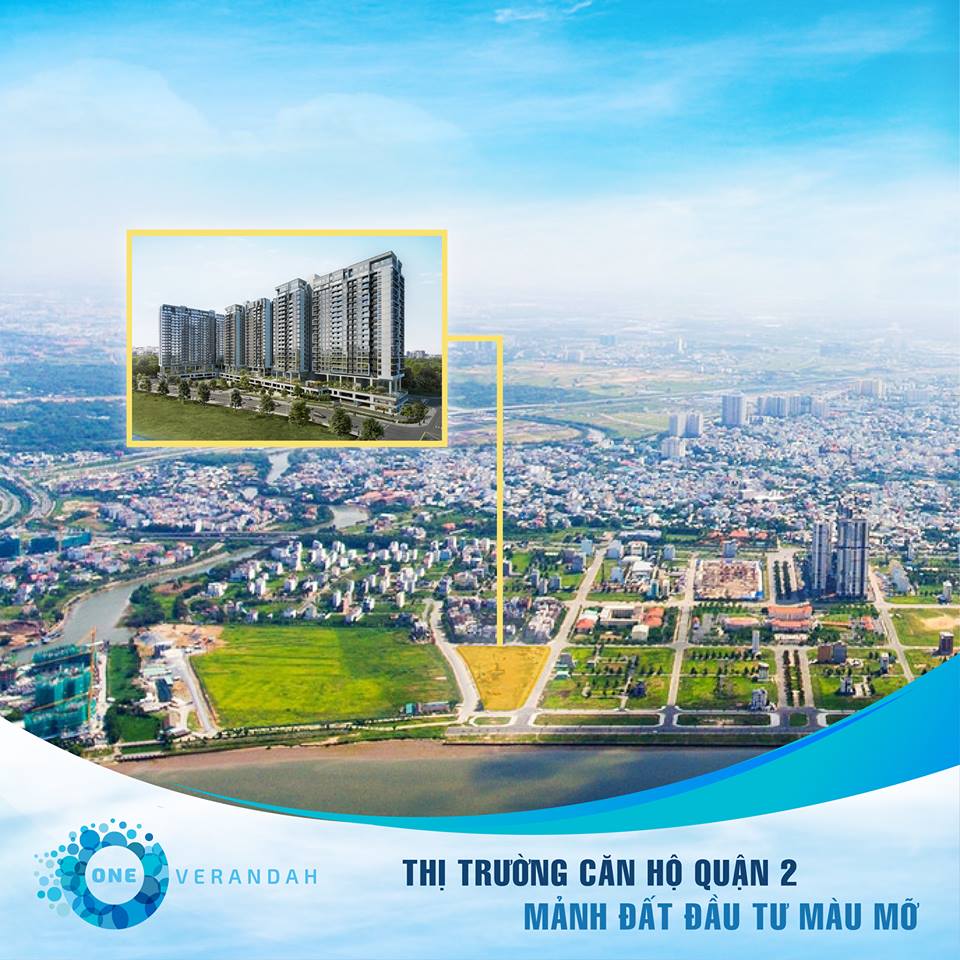 ✨ ONE VERANDAH – LOCATED IN THE "GOLDEN AREA" OF THANH MY LOI, DIST 2 ✨
District 2 will remain a potential area for development, especially Thanh My Loi areas (the newly formed residential area, which is also the location of the People's Committee of District 2) because of its abundant and potential land fund. The property value of this area is expected to continue to increase thanks to the traffic infrastructure projects like:
⭐️ Thoi Dai Bridge connects District 2 & Diamond Island
⭐️ Metro Line No. 2 from Ben Thanh to Tham Luong
One Verandah, one of the most luxury projects in District 2 will be a smart property investment.
ONE VERANDAH FACILITIES
One Verandah offers residents a chance to live a healthier life with plenty of facilities for physical activity area in 8,000 sqm amenities:
? Satisfy your sport passion with mini soccer court, basketball court, tennis court and Olympic-style swimming pool.
? Keep your body in good shape and remain healthy lifestyle with the gymnasium centre, jogging track and outdoor fitness station.
? Release stress and reduce anxiety with the yoga and meditation desk.
? Enjoy beautiful life with the greenery area at One Verandah.
? Living at One Verandah, your family will always be refresh and healthy.
ONE VERANDAH – PARADISE FOR FANS OF SWIMMING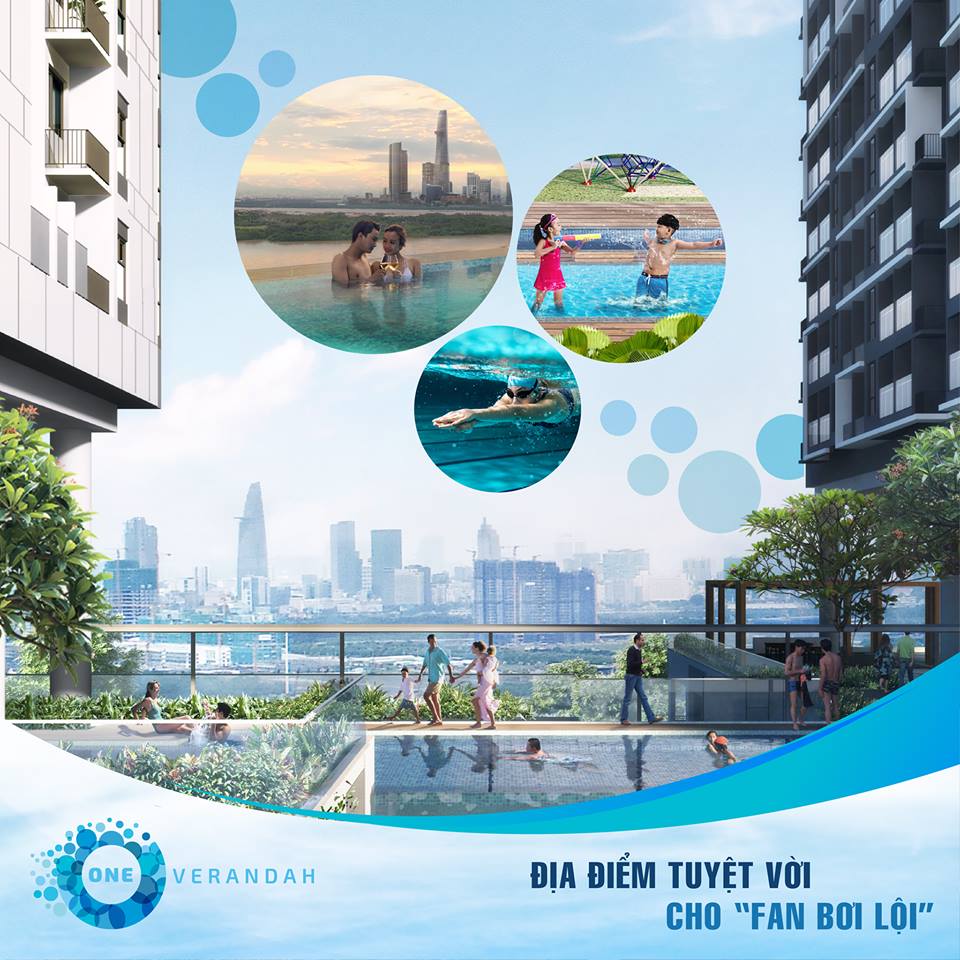 ?‍♂️ If you are a fan of swimming or simply just want to loosen up in the water, then One Verandah definitely is your "paradise"! Needless to look further, there are all kind of pools you ever want, right here at One Verandah:
✅ Ease your long days off at Jacuzzi, Four Seasons pool and splash pad.
✅ Show off your swimming skill like an athlete with 50-meter Olympic – style pool.
✅ Spend time with your kids at the kids' pool.
✅ Relax and enjoy the breathtaking Saigon river view at the Leisure pool.
⚽️ ? ONE VERANDAH – A KID-FRIENDLY DESTINATION FOR EVERY FAMILY ⚽️ ?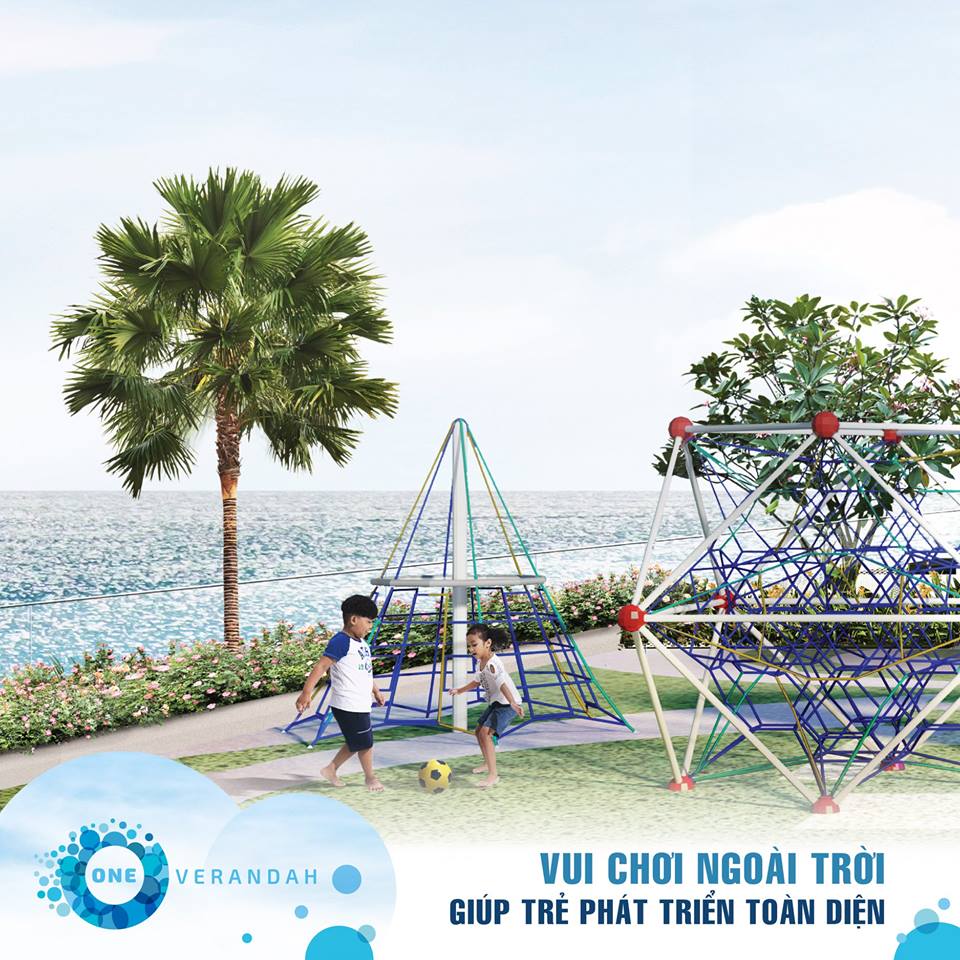 With 3 different playgrounds for kids from 0 – 12 years old, One Verandah, a kid-friendly destination for every family, will help to capture the best childhood memories for your children.
? Indoor playground for babies (under 2 years old): An ideal place for baby sensory development via colorful, lively and safe toy sets
? Outdoor Kids Zone for toddlers (3 to 5 years old): Climbing, sliding, running are favorite activities of your little ones. The playground will be equipped with the playhouse with roof, slide, etc. It also provides opportunities for sensory stimulation and creativity.
? Kids Adventure Zone (5 to 12 years old): A place where kids can freely enjoy different outdoor activities and movement games with climbing system.
The material of the floor for all playgrounds is EDPM rubber so it will be very safe for kids to play.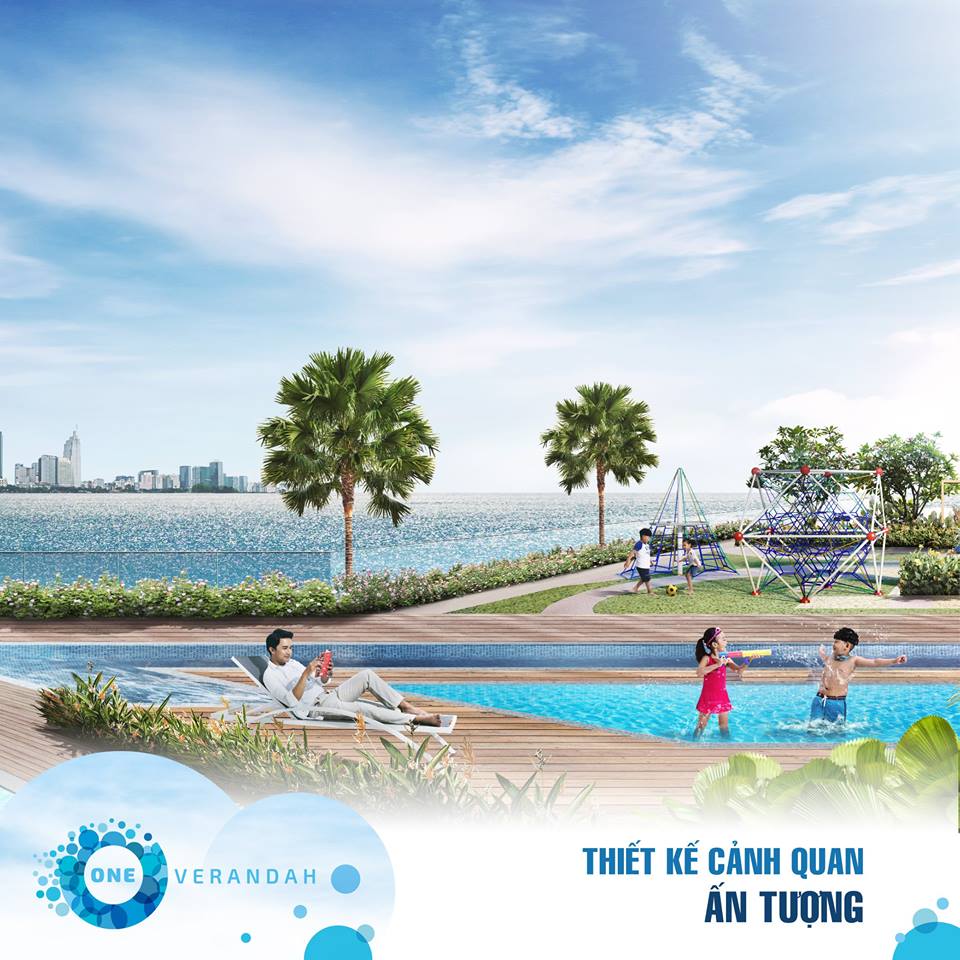 COMPLETE SAFETY WITH THE SECURITY SYSTEM AT ONE VERANDAH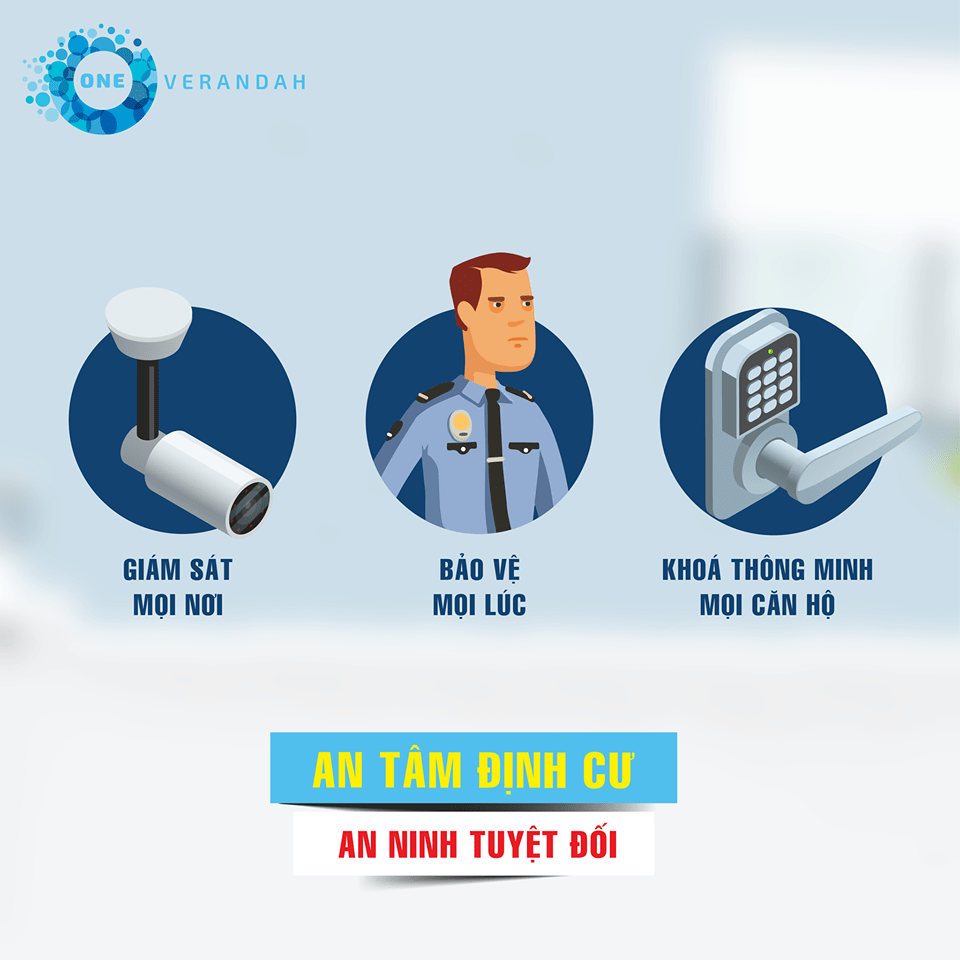 Safety is one of the most important factors that any homebuyer concerns about. At One Verandah, security system always tightens up:
✅ At the entry, there's a 24-hour security service to control and manage traffic flow.
✅ Camera system at all public areas, halls, elevators and parking area, etc.
✅ Each apartment is equipped with intercom system and smart lock.
One Verandah is a modern living environment with absolute safety that every family is looking for.
EXCELLENT HANDOVER CONDITIONS OF ONE VERANDAH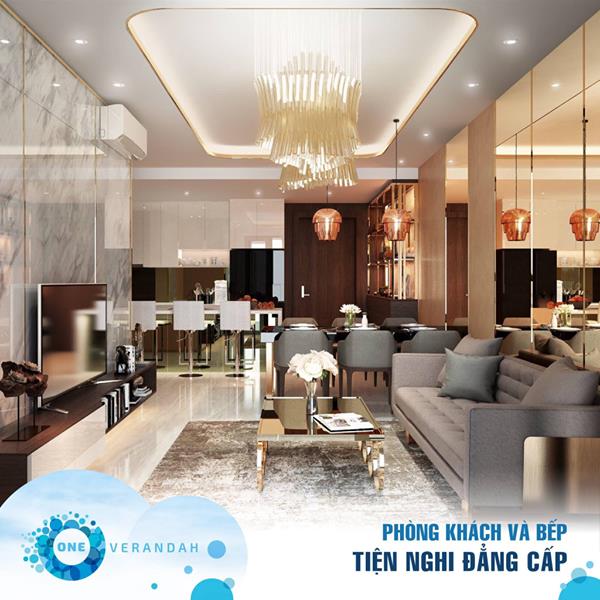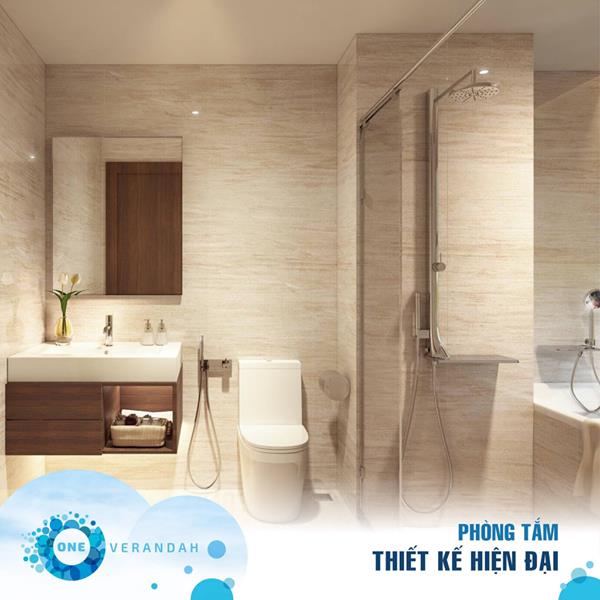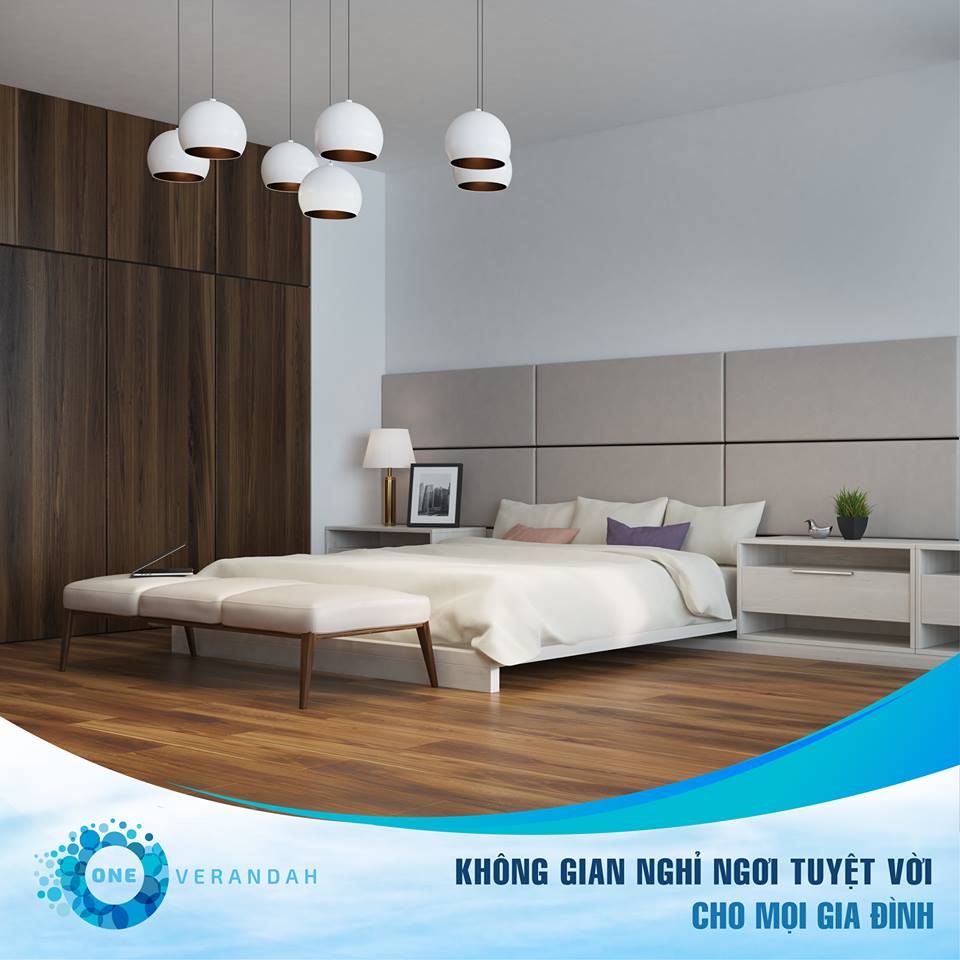 As a commitment of quality, One Verandah will offer:
➡️ Fully finished kitchen with: Top and bottom cabinet, full kitchen countertop, sink and faucet, kitchen hob & hood 
➡️ Premium-fitted bedrooms with: Laminated timber floor and wardrobes for all bedrooms 
➡️ Fully finished bathrooms
➡️ Air Conditioning: for all bedrooms, living rooms & dining rooms 
➡️ Fire rated timber door
➡️ Intercom System 
➡️ Smart Lock
➡️ Power back-up for common areas 
➡️ Hot water system for the whole apartment (kitchen, toilet)
? Residents can enjoy the 5-star facilities right here at One Verandah.
ONE VERANDAH MASTER PLAN
One Verandah Apartment project developed by Mapletree Vietnam is designed with five towers of 22 storeys. The apartments are designed very flexible, most apartments have excellent views of the Saigon River.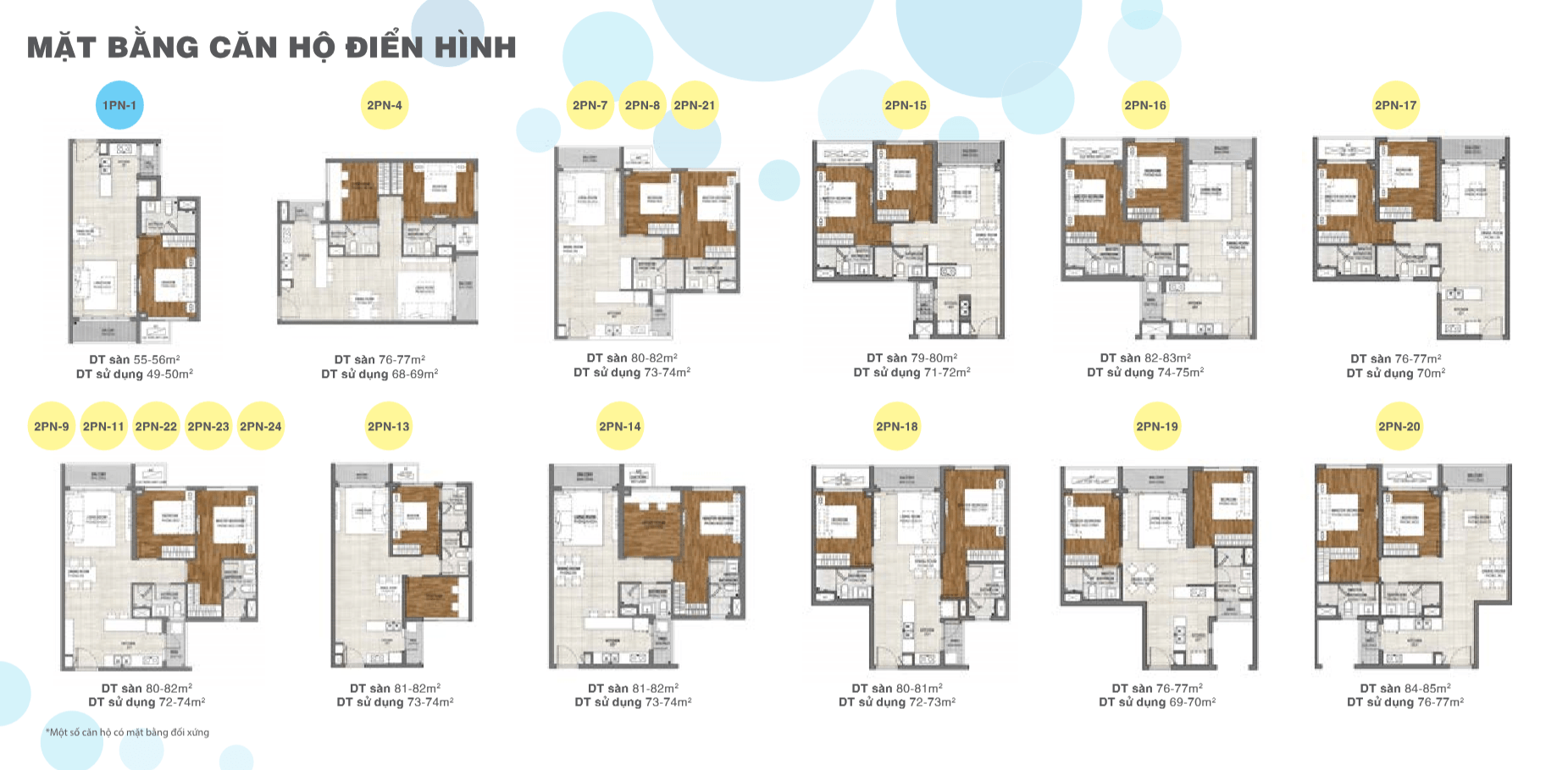 ONE VERANDAH – THE PAYMENT SCHEME – OWN YOUR DREAM HOME WITH THE FLEXIBLE PAYMENT SCHEME
PROGRESS
LIMIT TIME
PAYMENT RATIO (%)
(APARTMENT VALUE INCLUDED VAT)
NOTE
DEPOSIT (UNREFUNDABLE)
100,000,000 VND
1
SIGN DEPOSIT AGREEMENT (After Deposit within 15 business days)
10%
INCLUDING 10% VAT AND 100,000,000 VND (DEPOSIT)
2
FINISHING THE FOUNDATION – SIGNING THE SALE PURCHASE CONTRACT
10%
INCLUDING 10% VAT
3
AFTER SIGNING SALES PURCHASE CONTRACT 3 MONTHS
5%
INCLUDING 10% VAT
4
AFTER SIGNING SALES PURCHASE CONTRACT 6 MONTHS
5%
INCLUDING 10% VAT
5
AFTER SIGNING SALES PURCHASE CONTRACT 9 MONTHS
5%
INCLUDING 10% VAT
6
AFTER SIGNING SALES PURCHASE CONTRACT 12 MONTHS
5%
INCLUDING 10% VAT
7
AFTER SIGNING SALES PURCHASE CONTRACT 15 MONTHS
5%
INCLUDING 10% VAT
8
AFTER SIGNING SALES PURCHASE CONTRACT 18 MONTHS
5%
INCLUDING 10% VAT
9
HANDOVER APARTMENT
45%
45% + MAINTENANCE FEE + VAT OF FINAL INSTALLMENT
10
25% + MAINTENANCE FEE + VAT OF FINAL INSTALLMENT
5%
One Verandah offers buyers the flexible payment scheme of 10 instalments as below:
? Only 20% upon signing the Sales and Purchase Agreement (SPA).
? Then following with 6 instalments of 5% value of the apartment every 3 months after signing SPA.
? Pay 45% upon apartment handover.
? The last 5% to be paid upon receiving the Pink Book.
Moreover, buyers also enjoy the financial support up to 70% in 20 years from prestigious bank like Vietcombank, VPBank, VietinBank, HSBC, Standard Chartered and UOB.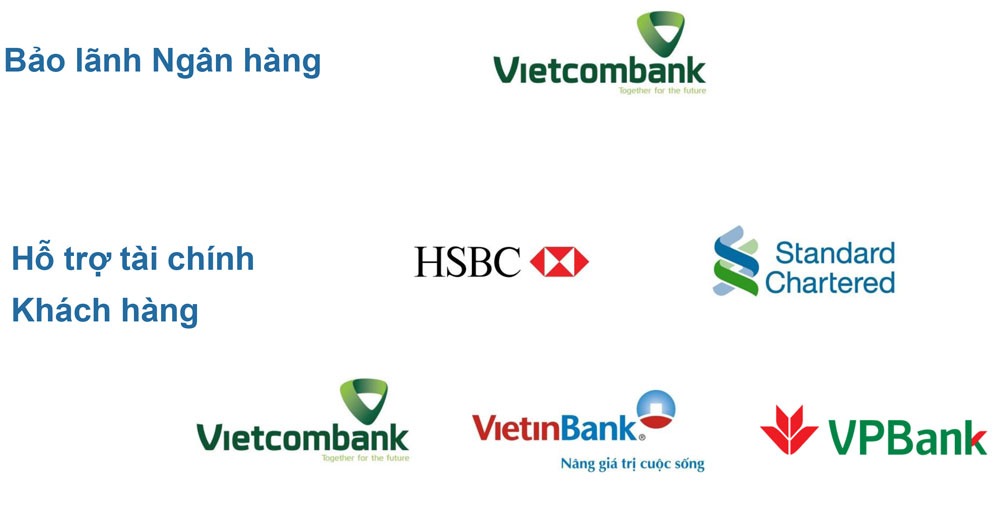 DEVELOPER and CONTRACTORS
? MAPLETREE – THE INVESTOR THAT CHANGED THE LOOK OF HABOURFRONT, SINGAPORE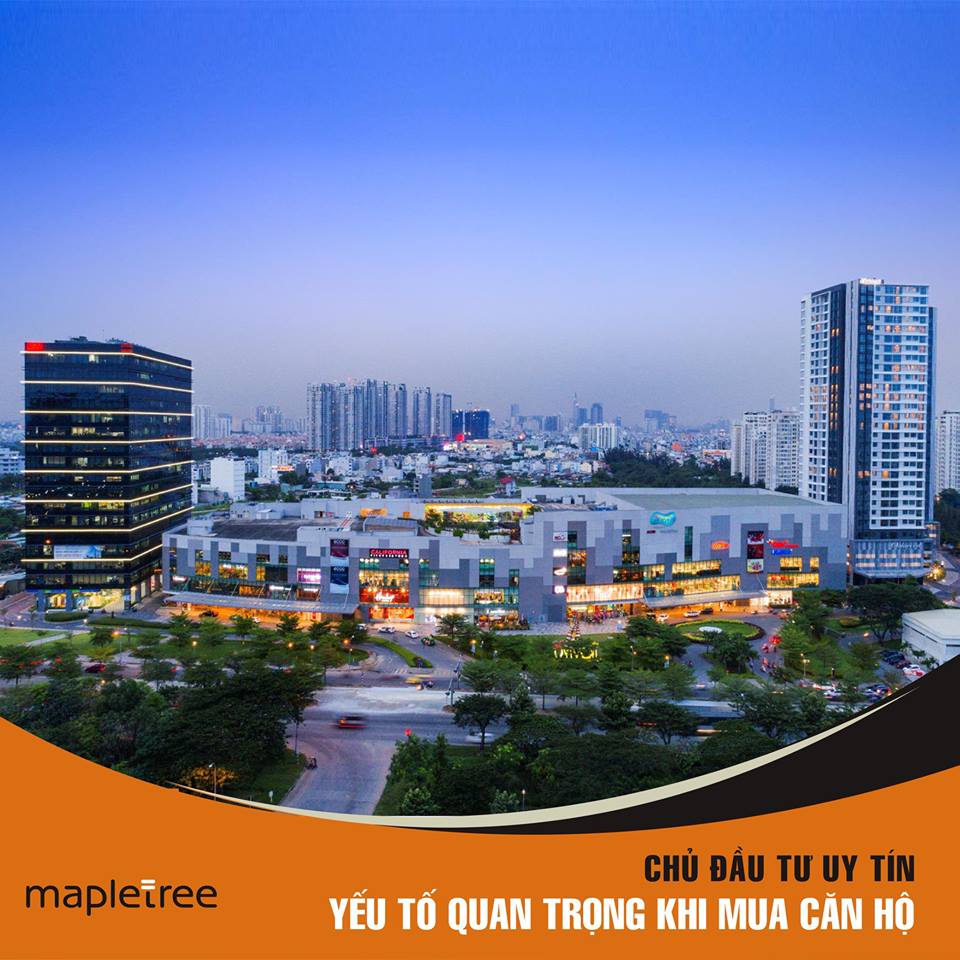 As the leading Asian corporation in real estate development, investment and asset management, Mapletree has blown the modern life into its projects, typically the HabourFront Precinct. From Mapletree's investment, it has grown to become one of Singapore's biggest centers, with popular landmarks such as VivoCity, HabourFront Centre and St James Power Station.
In Vietnam, Mapletree has brought new changes with its projects, including the high-end condo One Verandah. With a prime location in Thanh My Loi Ward, District 2 and a prestigious investor, One Verandah will be a promising investment channel.
MAPLETREE HITS ANOTHER RECORD EARNINGS FOR FINANCIAL YEAR ENDED 31 MARCH 2018
? At 31 March 2018, Mapletree owns and manages SGD 46.3 billion of assets across 12 countries and regions all around the world.
? In Vietnam, One Verandah is another quality development by Mapletree like similar previous successful projects (SC VivoCity, mPlaza Saigon, Mapletree Business Centre, etc.)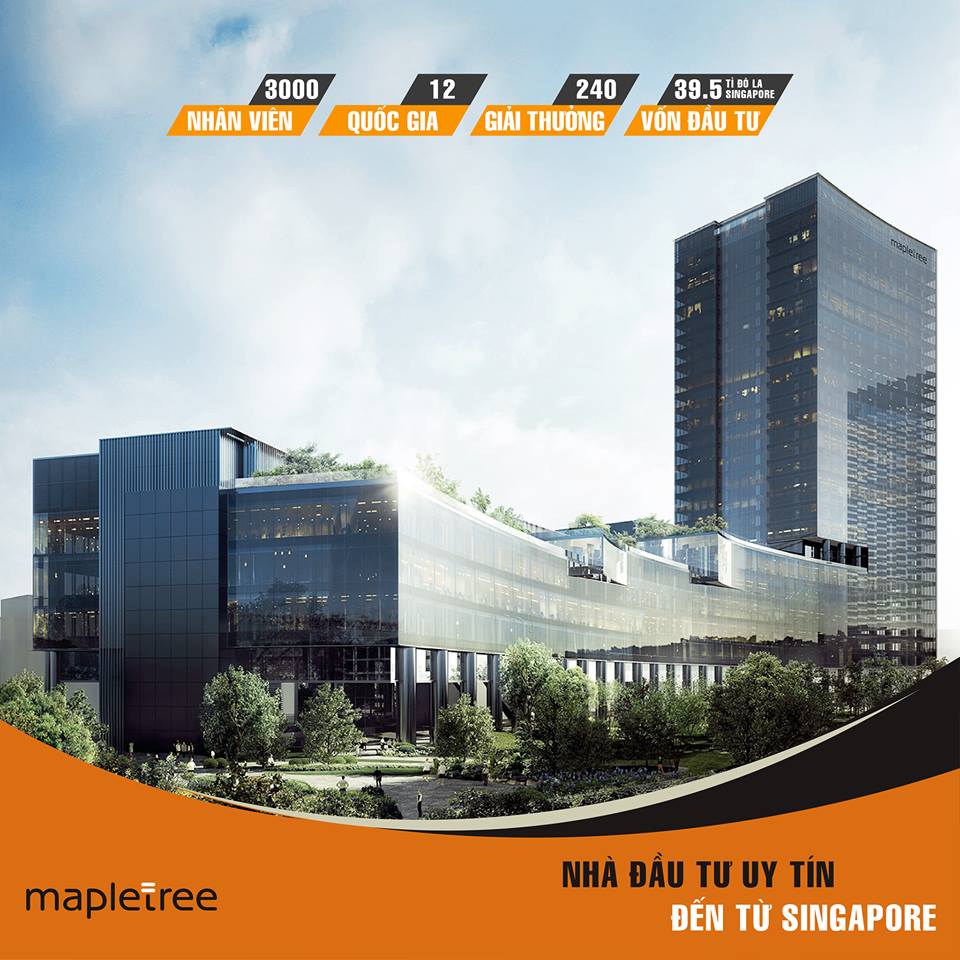 Mapletree is a leading company in the field of real estate and capital management in Singapore, real estate in Vietnam:
RichLane Residences District 7

Kumho Asiana Plaza District 1 (mPlaxa Saigon)

Centrepoint Ho Chi Minh

One Verandah District 2

SC VivoCity
COTECCONS – ONE OF THE LEADING CONTRACTORS IN VIETNAM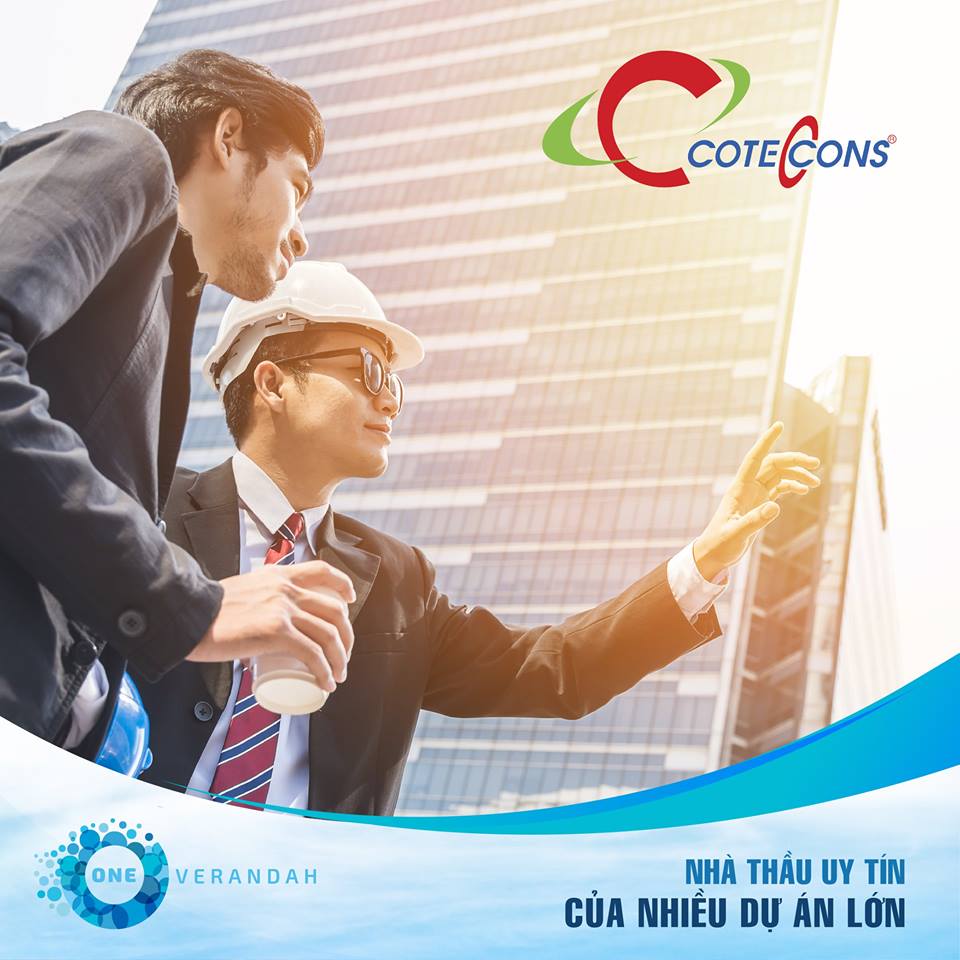 Coteccons is the main contractor of One Verandah. They build major projects throughout Vietnam for Vietnamese and international clients with their high quality and accountability vision. Coteccons has achieved remarkable results by the completion of many challenging projects such as:
? The Landmark 81 (Vinhomes Central Park)
? DoubleTree by Hilton Ha Long Bay Hotel & Condotel 
? Ho Tram Strip
WHY ONE VERANDAH IS THE BEST?
High profitability: constructing the bridge connecting Mai Chi Tho with Thanh My Loi residential area is a bright spot for this project.

Construction quality is guaranteed: the project is invested by Singapore's leading developer, Mapletree.

A series of projects will be implemented to complete this development fast with fully facilities.

Thanh My Loi area is planned to be the administrative center of District 2, currently the administrative offices of District 2 have been moved here.

The administrative district of District 2 has moved here.

With more than 8000m2 of floor space for high end amenities to meet the demand of residents in One Verandah as swimming pool, wave pool, children pool, g
? Project update on October, 2018
The foundation of the project and the Sales Gallery & Show Units are under construction. Upon completion, customers may visit our Sales Gallery and Show Units to have a better understanding about their future home.
➡️ Let's take a look at some updated photos of One Verandah.
ONE VERANDAH – PROJECT INFORMATION
Project name

Project marketing name: One Verandah




Project legal name: Riverfront Condominium, Commercial & Service Building, Zone 1 – Thanh My Loi Residence, Thanh My Loi Ward, District 2, Ho Chi Minh City, Vietnam.

Developer

RIVERFRONT TML (Vietnam) Co. Ltd. – a subsidiary of Mapletree

Location

Address: Zone 1 – Thanh My Loi Residence, Thanh My Loi Ward, District 2, Ho Chi Minh City, Vietnam.




05 min to Thu Thiem New Urban Area




10 min to CBD via Thu Thiem Tunnel




20 min to District 7 & Phu My Hung Area via Phu My Bridge


Land boundary:


Northeast: bordering Nguyen Van Kinh street, 25m wide




Northwest: bordering Bat Nan street, 25m wide




Southwest: bordering Street 103, 25m wide




Southeast: bordering Ta Hien, 25m wide

Duration

Freehold

Site Area & Construction density

Site area: around 16,684 m2




Construction density: of the tower – 50%, of the podium – 40%

No. of Towers/ storeys

5 towers:




Soleil




Viento




Jardin




Ciel




Lumina




22 storeys/tower: Parking podium (1F-2F) + entertainment deck (3F) + apartments (4F-22F)

No. of units

779 apartments and shop-houses

Parking area

Parking podium on the 1st and 2nd Floor

Unit mix

1 Bedroom Unit:




GFA: 55-59sqm




NFA: 49-53sqm

2 Bedroom Unit:




GFA: 77- 82sqm




NFA: 68-74sqm

3 Bedroom Unit:




GFA: 106-109sqm




NFA: 97-99sqm

Duplex/Penthouse:




GFA: 149-304sqm




NFA: 134-317sqm

Consultant Team

Architect: P&T Consultants Pte Ltd – Singapore http://www.p-t-group.com/




M&E Engineer: Rankine-Hill Co. Ltd http://www.rankine-hill.com/




Landscape Consultant: COEN – Singapore http://www.coen-design.com

Handover Conditions

Fully furnished




Fire rated timber door




Air Conditioning: for all bedrooms, living rooms & dining rooms




Laminated timber floor for all bedrooms




Wardrobes for all bedrooms with laminated finish




Intercom System




Fully finished kitchen:




– Top and bottom cabinet




– Full kitchen countertop




– Sink and faucet




– Kitchen hob & hood




Fully finished bathrooms




Power back-up for common areas




Smart Lock




Central hot water tank of each apartment, go to kitchen and bathroom




Please refer to the apartment handover list attached in SPA

Key selling points

A wide selection of facilities for all ages, spreading across an 8,000 sqm entertainment deck




Unblocked views of the city and the river




Spacious balconies with breath-taking views




Naturally ventilated apartments with good natural daylight

Amenities

Many amenities are highlighted with the unique design aim to your maximum convenience and relaxation in One Verandah:




1. Daybed Corner




2. Herb Garden




3. Open Lawn




4. Viewing Deck




5. Reading Corner




6. Jogging Track




7. BBQ Pavilion (6-8 pax)




8. BBQ Pavilion (8-10 pax)




9. Outdoor Dining




10. Library




Variety of water features/pools:




11. Jacuzzi




12. Olympic-Style Pool 13. Four Seasons Pool 14. Splash Pad




15. Kids Pool




16. Dipping Pool Children playground and physical activity area:




17. Playground (3-5 years old)




18. Indoor playground




19. Playground (5-12 years old)




20. Mini Soccer Court




21. Basketball Court




22. Tennis Court




23. Gymnasium Center




24. Yoga & Meditation Deck




25. Outdoor Fitness Station




Other facilities:




26. Revitalizing Area 27. Party Deck




28. Sun Lounge




29. Pool Deck




30. Multi-function Room 31. Aqua Deck




32. Outdoor Lobby

Lifts/Lobby

Number of lifts in each block:




Block Soleil & Viento: 4 passenger lifts and 1 service lift/ Fire escape




ladder




Block Jardin: 3 passenger lifts and 1 service lift/ Fire escape ladder




Block Ciel & Lumina: 4 passenger lifts and 1 service lift/ Fire escape




ladder




Podium: 1 passenger lift




Passenger lift's capacity: 1350kg (18 person)




Service lift's capacity: 1350kg (18 Person)




Width of lift lobby:




Block Jardin: 2.2sqm




Block Ciel: 2.2sqm

Corridor

Length, width and height of the corridor:




Block Jardin: 1.6sqm




Block Ciel: 1.6sqm




Highlight point: All the corridors are designed with natural ventilation

Exit stairwells

Block Jardin: 2 stairwells




Block Ciel: 1 stairwell




Width of stairwell: 1.2sqm

Security system

Camera system monitoring in the common area, parking area, lifts.




Control access system: video & audio door bell

Refuse collection

Modern garbage collection by each floor with Singapore technology (Rubbish chute)

Power back-up system

Common area

Fire protection system

Comply with the regulations of fire protection

Internet

Provide to individual apartment with cable and socket

Water supply

Water will be stored at the underground concrete water tank for daily usage, beside that there will be a FRP tank mounted on roof for low block

Estimated ceiling height

From floor to false-ceiling:




Kitchen: 2.6sqm




Bathroom: 2.4sqm




From floor to floor




Typical unit: 2.90sqm – 2.95sqm

Water supply and hot water

Water is supplied to each apartment by PPR pipe following the latest standards.




Hot water is supplied to each apartment from central hot water tank of each apartment, go to kitchen and bathroom

Ventilation

Inside the apartment: natural ventilation is priority for most of the apartments, except for the toilets adjacent to the outside will be arranged mechanical ventilation system to the roof




Lobby: natural ventilation

Video door phone system

Provide video door phone system to each apartment

Bank guarantee

Vietcombank

Taxes/Fee related to the apartment

Sinking Fund: 2% of apartment selling price before VAT




Value Added Tax (VAT): 10% of apartment selling price (excluding




Maintenance Fee)




Registration Tax for Ownership Certificate: 0.5% of apartment value




Personal Income Tax (Resale): 2% of transacted value




Personal Income Tax (Rental Income): 5% VAT & 5% Personal Income Tax on revenue




Business License Tax: VND 1 million per year if rental income exceeds VND 1.5 million per month




Note: The above taxes & fees are subject to change by the relevant authorities.

Sinking Fund

Sinking Fund shall be equal to 2% of the apartment selling price before VAT and this fee is used as the project's fund to repair, upgrade and maintain the project